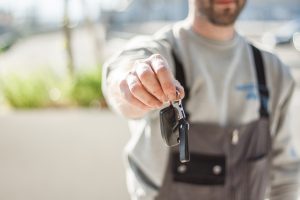 The Ultimate Mobile Locksmith Service
Key Man Simi Valley is a mobile locksmith service, which means we come to you when you have a lock issue. Therefore, we do all the heavy lifting and you don't have to worry about a thing. We send our technicians out in economy friendly vehicles so they can get to you faster than a clunky van can. In fact, our mobile locksmith service has many benefits that customers can glean from.
We Are Available All The Time

Key Man Simi Valley is open 24 hours a day, 7 days a week and all major holidays. You can contact us anytime and we will answer.
Most businesses are closed on weeknights, but we aren't. If you come back from the club only to find that your car has been locked in an abandoned lot (true story), you call us!

Our Technicians Work Locally

We can reach you no matter where you are, and fast, because our technicians work in your area.

We Come Prepared

Our technicians have everything they need in their vans so there's no need to head to a storefront to get parts. Of course, we make sure to send you the right technician over the phone with the information you provide us. Therefore, the better you inform us, the easier it will be for the technician to help you on site.

Sophisticated Tracking Technology

We use Google's location sharing technology to track our locksmith's locations at all times. Therefore, we always know where they are so we can give you more accurate arrival times.
The Importance of Convenience
While it may cost a bit more, you have to factor in the convenience charge for a person coming out to meet you to do a service for you. It takes time, effort and some planning to send a technician out to you, so that is why locksmiths sometimes charge more when they arrive at your property.
We Are Better Than A Storefront
A mobile locksmith service is better than a storefront because we come to you to serve your needs, not the other way around. We care about the customer's needs first because you want peace of mind, and we can deliver that.
Key Takeaway
So there you have it, our case against not having a storefront. Our mobile locksmiths are more flexible, available and accessible than storefront locksmiths. Because nothing is more awkward than pulling up to a locksmith shack and asking for a house key replacement. Therefore, if you need quick mobile locksmith service now, don't hesitate to contact Key Man Simi Valley at (818) 847-7199. We promise we don't bite.